PRODUCTS

BI-METAL BUSHING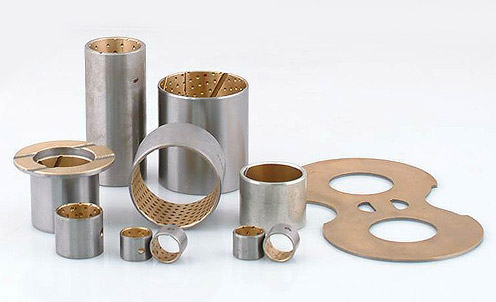 KDB BM identifies a complete range of bimetallic bearings made by lining a low carbon steel support with a sintered
bronze layor.
These sliding bearings must be used with oil or grease lub-rication. The sliding surface of these bearing may be mech-anically machined to obtain channel grooves or pockets for a better distribution of the lubricant. Steel backed leadbronze
lined bearing material for lubricated application, high load capacity and good fatigue properties.


| Material | Alloy compositon | International standard | Alloy hardness |
| --- | --- | --- | --- |
| BM-1 | CuPb10Sn10 | JIS-LBC3/SAE-797 | HB70-100 |
| BM-2 | CuPb24Sn4 | JIS-LBC6/SAE-799 | HB45-70 |
| BM-3 | CuPb24Sn | JIS-KJ3/SAE-48 | HB30-45 |
| BM-4 | AlSn20Cu | JIS-AJL/SAE-783 | HB30-40 |



Gear shaft bushing (hydraulic geared pump)
Shovel bucket hinge bushing (tractor, shovel), Lower ring bushing (bulldozer)
Cam shaft, Connecting rod, Rocker arm, Idle gear, King pin bushing
Leaf spring, Brake shoe, Hoist cylinder, Hydraulic motors bushing
Mechanical handling, Lifting equipment, agricultural machines bushing

Performance being good during high speed
Fitness during high load
High-strength special quality
Low attrition performance
Bearing for lubrication of oil lubrication method